Public speaking is an artform. Professional speakers constantly hone their voice, hand gestures, and body movements to make engaging, memorable presentations. Over the years technology has played a bigger and bigger role in every speech. PowerPoint slides are almost a requirement for any presentation. The new era of presentation tools poses new challenges to overcome and comfort zones to break free of for even the most skilled public speaker.
I was excited and surprised to read in February's Toastmaster magazine, four pages dedicated to the New Era in Presentation Technology. In the article, author Dave Zielinski writes about how today's public speakers can start using augmented reality, virtual reality, and 3D tools to engage their audiences. This is according to the latest trends discovered at the Presentation Summit this past September.
Virtual Reality as a Presentation Tool
I'm glad to hear virtual reality (VR) is being recognized as a presentation and conversation platform. Organizations have been using virtual reality for public speaking events for some time. AltspaceVR hosted Bill Nye in 2017. More recently, the Women in XR organization hosted a startup pitch event in AltspaceVR. People from around the world joined the event in virtual reality where they watched 3D avatars of real people pitch their startups.
Lethbridge College also recognizes the benefit of hosting presentations and speakers in virtual reality.  The college is hosting a full day conference in a virtual reality environment, rumii (sign up for the conference here). The conference has two keynote speakers planned. It will be interesting to see how they take advantage of the virtual world for their presentations.
Public Speaking is Evolving
We're not just seeing the technology for presentations change; public speaking itself is evolving. Public speakers find they engage better with their audiences using "nonlinear conversations" than delivering formal presentations. This means breaking free from planned slides, and instead, use talking points to guide the conversation. This is where virtual reality comes in.
With virtual reality, presenters no longer have to worry about keeping audiences engaged with just their "voice and slides beamed to the screens of mobile devices". In VR, the presenter and audience are completely immersed in the virtual environment. They are represented by 3D avatars, can move their hands, heads, and bodies as if in the same room together. In virtual reality, public speaking basics are just as important as in real life since body and hand movements are tracked. Toastmaster speaking basics are also crucial when presenting in these emerging realities.
The Audience is Changing
Tom Howell, creative director of a presentation design agency in Sydney, Australia, found that more of his clients use tablets to make sales pitches to customers in smaller group settings. In doing so, he found that they try to interact with the slides on the tablet like any other app. This is where the presenter needs to think outside the box by creating presentations that can be used in "nonlinear conversations".
Virtual reality is a great fit for small groups of people who want to interact with the subject material. In VR, presenters aren't stuck to 2D slides and images. Presenters can showcase 3D models of products or even data in three-dimensional graphs. Stepping away from using slides "allows [audiences] to more easily move from topic to topic based on expressed audience interest." Virtual reality allows for subject material on an as-needed basis, which is what audiences are coming to expect.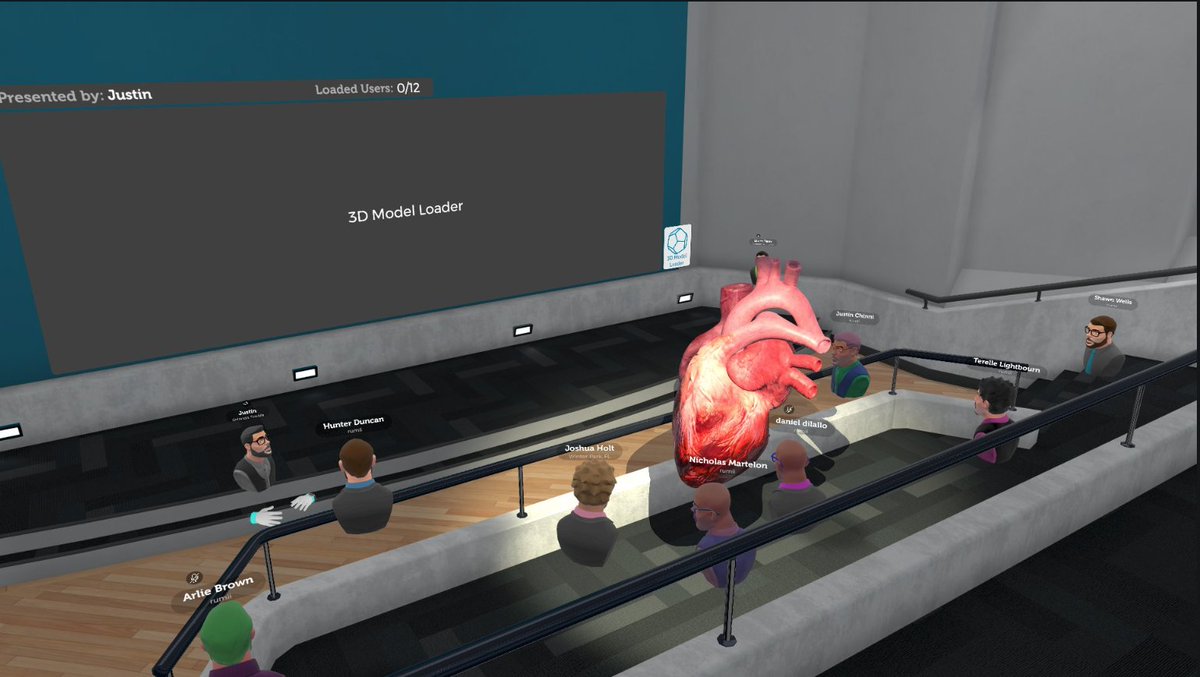 Public Speaking will be Data Rich with VR
Although presenters are faced with the challenge of audience-driven presentations, technology is on their side. Virtual reality is data rich, meaning speakers can analyze their presentations and audience engagement, among other metrics. For instance, if a presenter is displaying products in VR, they can see which products had more or less engagement from the audience via metric dashboards. This can help the presenter tailor their pitch for the next audience.
Virtual Reality has some Limits
It's important to remember that virtual reality is still emerging. The hardware is rapidly improving, dropping in price, and becoming content-rich platforms. However, not everyone has access to a VR headset. When choosing a virtual reality software to present, make sure the software is compatible across headsets and has a desktop mode. This ensures members of the audience can still attend the presentation, even if they do not have a VR headset.
Immersive Tech is the Future
In a world where speakers are expected to present online more and more, so too does their need for mastering these emerging, immersive technologies. Faceless webinars will soon be a tool of the past. Speakers will need to be comfortable presenting in immersive, virtual environments where they aren't bound to real life physics. The new era of presentation tools has arrived.