Imagine a "360 workspace where you can brainstorm, organize your thoughts, and think up new strategies for your business…" That's what Michael Seibel asked on Twitter. The virtual reality community quickly responded with a plethora of apps. I went through the list of VR apps see who was the best for getting work done.
I ranked the apps based on:
A professional atmosphere
The ability to meet with other people
The ability to visually share what each other are working on
What we expect as default from VR Apps:
Spatial audio
Customizable environments
Customizable avatars
Jump to an App
rumii is the place to go to meet with your team. rumii has a main lobby with multiple, customizable rooms. It is a great VR space for brainstorming, holding a Daily Standup, or presenting a report. You and your teammates are represented as customizable avatars.
*Disclaimer* I worked on this product.
Main features include:
Up to 10 people can meet at a time
3D Model Loader
Whiteboard
Screen Sharing
File Sharing
Compatible with: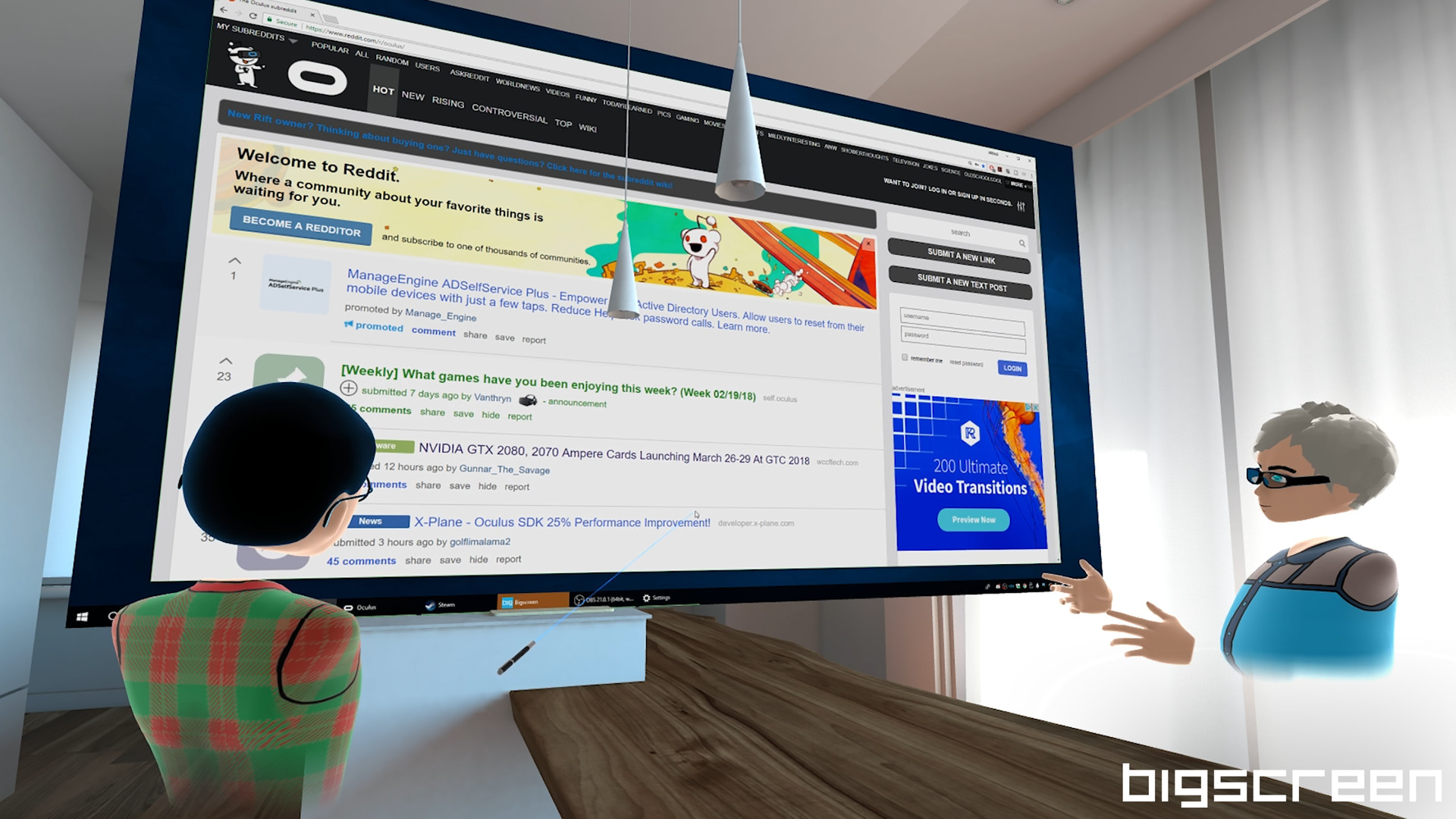 Bigscreen is designed for the gaming and movie community. It looks beautiful but is hard to read the small text. The ability to create private rooms, invite people to them, and screen share makes it an option for remote workers to host meetings in VR. Bigscreen is currently in Beta.
Main features include:
Private rooms with up to 12 players
Draw in 3D
Customize the screen's position, size, and curvature
Desktop Sharing
Support for up to 3 monitors (physical monitors or virtual/emulated monitors)
Compatible with: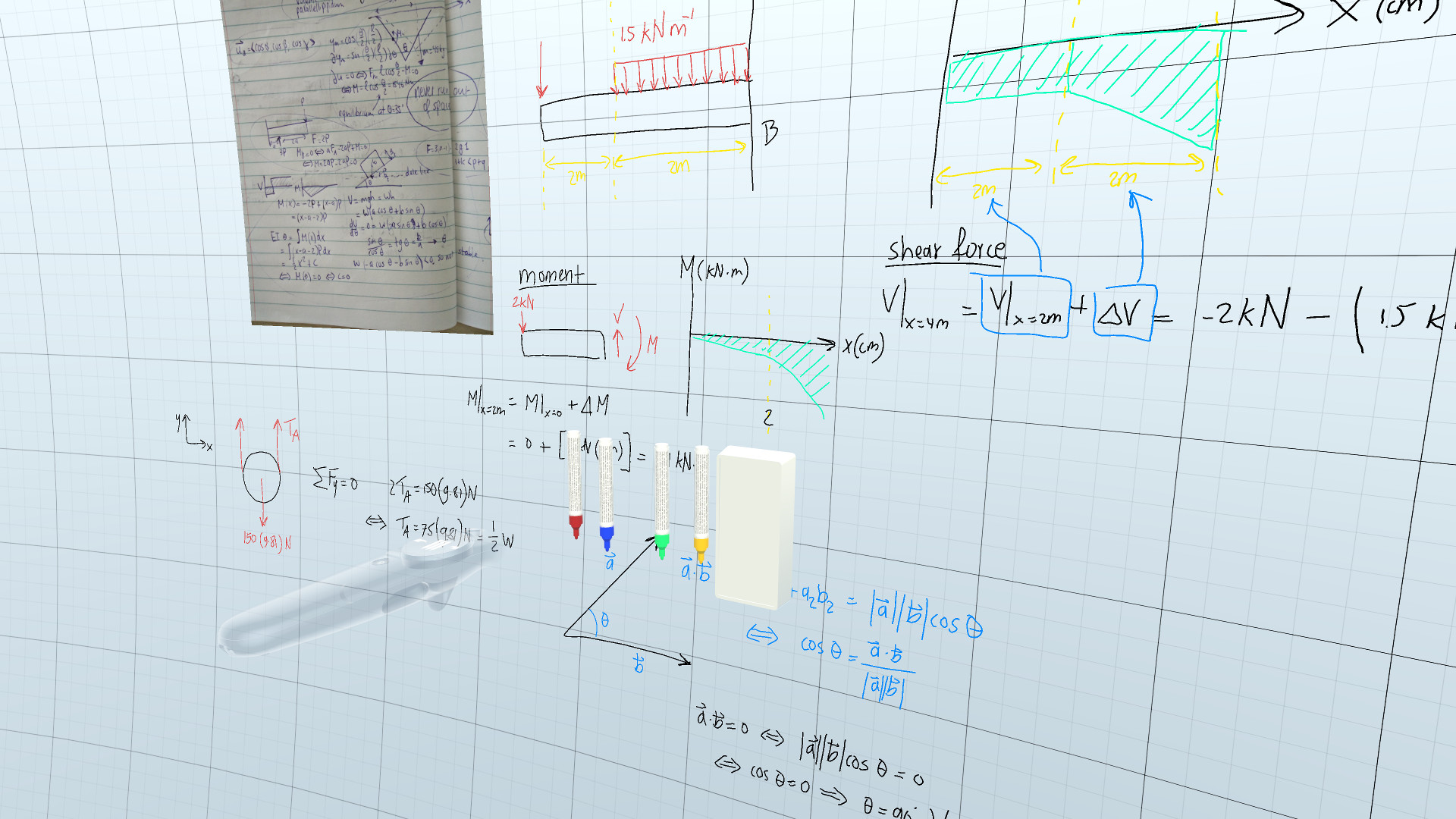 Who doesn't love a good whiteboard? Dry Erase boasts over 750 marker color and thickness combinations. Use Dry Erase to shut out distractions, then share your ideas with your team. Comfort drawing on a 2D surface with Vive Controllers can be a challenge.
Main features include:
Export drawings as SVG images
Import PDF files and images
Record and share your sessions
Compatible with:
Facebook is shut down Spaces on October 25, 2019. Facebook Horizon is the new VR social network from the company.
Facebook Spaces is built as a social platform for Facebook users. It can work for a quick meeting, that is if you want to be Facebook friends with your co-workers.
Main features include:
Meet with Facebook friend's avatars
Go Facebook Live from Spaces
Make and receive calls with Facebook Messenger
Draw in 3D, share images and video.
Compatible with:
Have your own, personal office to focus on work. vSpatial displays the windows on your desktop all at once.
It's nice to see multiple windows at once but until we get VR keyboards, productivity is limited. Video calling is a nice feature but it seems redundant to go into VR for a video call.
Since the original write up of this article, vSpatial has added a remote desktop VM.
This app is still in Early Access.
Main features include:
Personal room with customizable environments
Up to 3 people can meet at a time via teleconference
Infinite application windows
Fully integrated with Slack
Compatible with: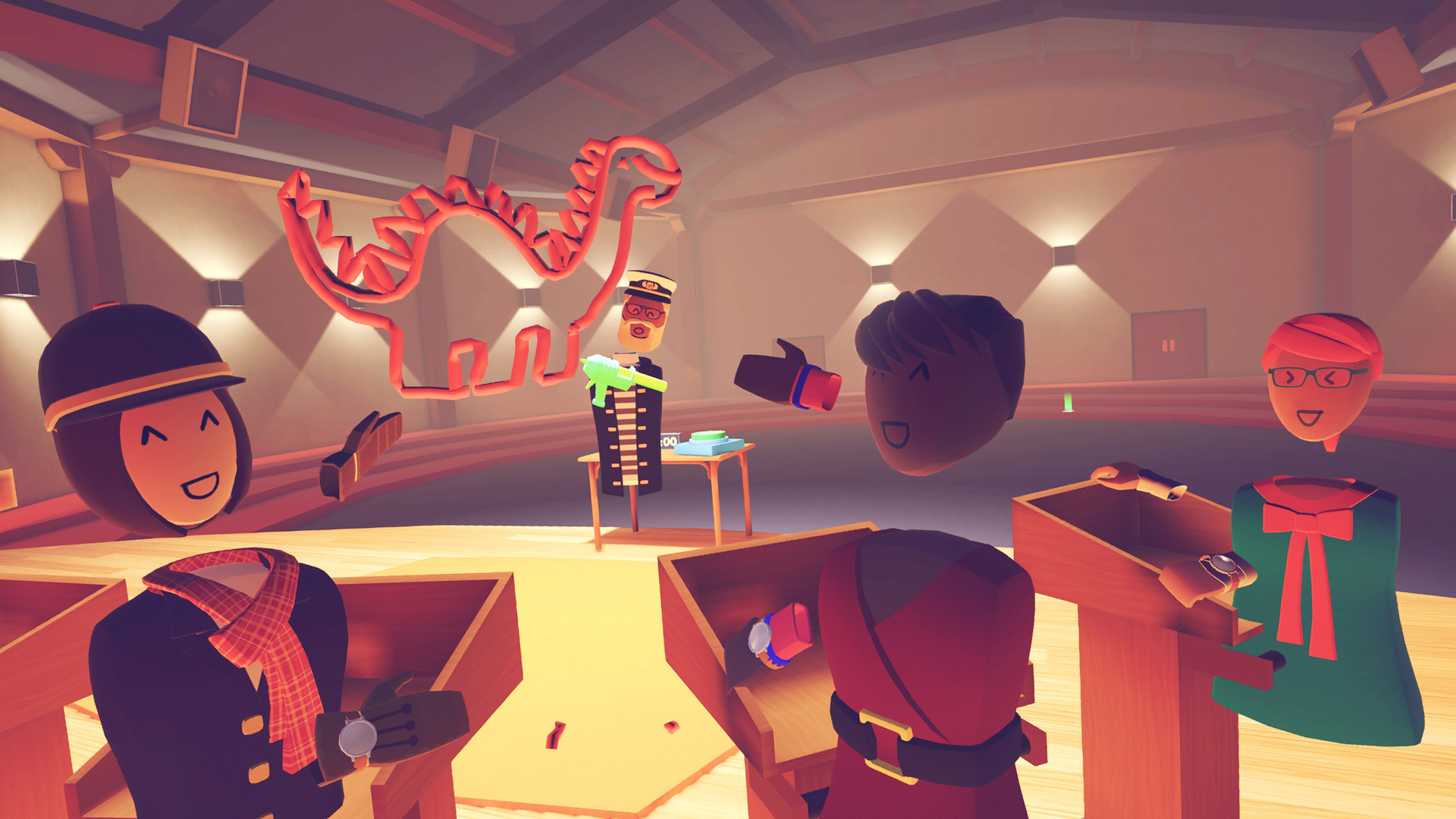 Rec Room is a virtual community designed for playing with friends. You and your coworkers are represented by avatars and can meet in private rooms. Rec Room is a good option if you want to host a team outing but your team is all over the world.
Main features include:
Co-Op Quests, 3D Charade, Paintball
Mute options and moderation tools help manage the experience
Compatible with:
This app offers multiple demo scenarios for how a business could use virtual reality. SuperManual has a library of scenarios from an experimental Scrum board to a walk through a luxury apartment. If you're trying to convince your company to invest in VR, use this app to show all the reasons why.
There doesn't seem to be any updates from this company since 2018. It looks like they've shifted from virtual collaboration to a creation tool to create immersive experiences.
Main features include:
Pre-built libraries of content and interactions
Share web links, photos, and images via email
Compatible with:
Matt from Immersed, gave me this update on their product:
(As of Spring 2018) – Immersed elicits a sense of relaxation but provides a distraction-free zone to increase productivity and get work done. With the high-resolution displays in Gear enabled devices, small text can be read easily. Immersed hopes to create a remote work solution that will allow you to work and live wherever you want!
Main features include:
Completely mobile and un-tethered (Take Immersed wherever you'd like)
Personal work space with multiple monitors
Distraction-free work zone
Whiteboard
Compatible with:
Drop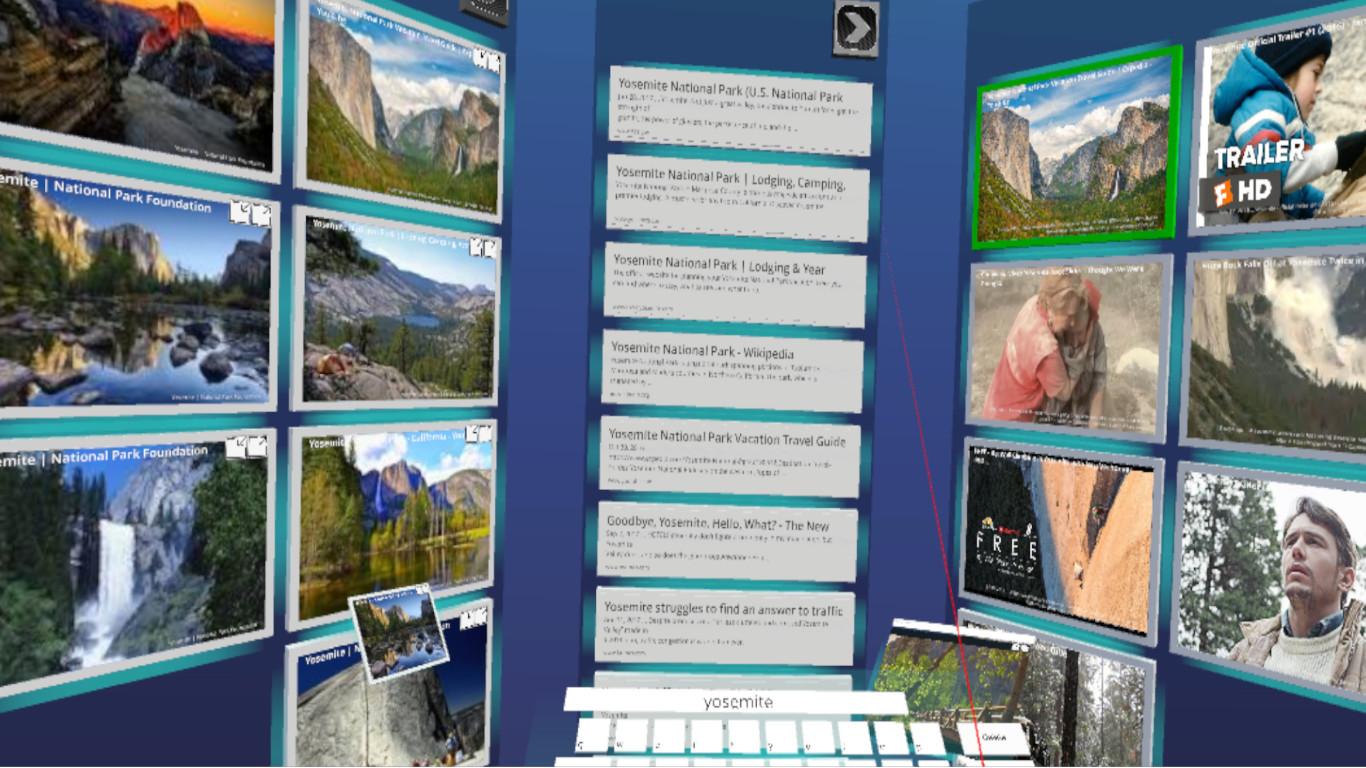 As of October, 2019 the website is no longer working.
Drop is an app that lets you search and browse with multiple windows in virtual reality. Drop is currently in Early Access but looks like a decent app to browse the web without having to leave your headset. Security of the web search is a question. I do like the Black Panther demo.
Main features include:
Search and browse online
Share web links, photos, and images via email
Looks like Holos pivoted to classroom education.
Holos offers a new way to navigate VR. It uses a card system instead of replicating desktop windows. You can even develop your own card and submit it to the Holos app. Holos is really a new "VR Home" instead of Oculus home or Vive home.
While cool, this app doesn't seem suited for meeting with your remote colleagues. Apparently, they're not sure how it should be used in the classroom either.
How do I use Holos in my classroom?

Unsure.

via Holos FAQ
Main features include:
Multitask with web apps via cards
Compatible with:
Experience events live in 360-degree video.
Main features include:
Watch live 360 video streams.
---
Coffee = Blog Fuel
If you find joy and value in what I write please consider donating by "buying me a coffee".