I started this list of VR Apps for remote workers in 2018. In 2020 the worldwide pandemic hit. It catapulted thousands of workers from their offices. Virtual reality provides "presence". Something video calls can't.
In immersive environments like virtual or augmented reality, people feel like they're in the same room together. Immersive apps like the ones in this list are the next evolution in remote meetings. Don't believe me? Try them out for yourself!
I ranked the apps based on:
A professional atmosphere
The ability to meet with other people
The ability to visually share what each other are working on
What we expect as default from VR Apps:
Spatial audio
Ability to share documents, load 3D models, share screens, etc.
Customizable environments
Customizable avatars
Jump to an App
Realistic 3D avatars, app integrations, and 3D models are all part of Spatial. In December, 2020, Spatial released a mobile app for Android and iOS. Spatial is available on all major headsets.
Spatial's head of business, Jacob Loewentein, says Spatial is like "Zoom and Slack had an AR/VR baby. And we really mean it. Because if we succeed it's because we've made this thing just stupidly easy to use."
Main features include:
Use a webcam to be present without a headset
Arthur is another VR app that promises remote work collaboration. Whiteboards, file sharing, 3D objects, and presentations. Seems like a solid app but nothing new here.
Main features include:
Main lobby with individual rooms
Avatars wear sunglasses to negate VR "dead eyes"
rumii is the place to go to meet with your team. rumii has a main lobby with multiple, customizable rooms. It is a great VR space for brainstorming, holding a Daily Standup, or presenting a report. You and your teammates are represented as customizable avatars.
*Disclaimer* I worked on this product.
Main features include:
Up to 10 people can meet at a time
3D Model Loader
Whiteboard
Screen Sharing
File Sharing
MeetinVR focuses on rooms designed for the type of meeting. Want to have a focused conversation? There's a room for that. Need a brainstorming session instead? Use the infinite whiteboard room.
Main features include:
Infinite whiteboards and space
3D mind maps with media files
Rooms based on meeting types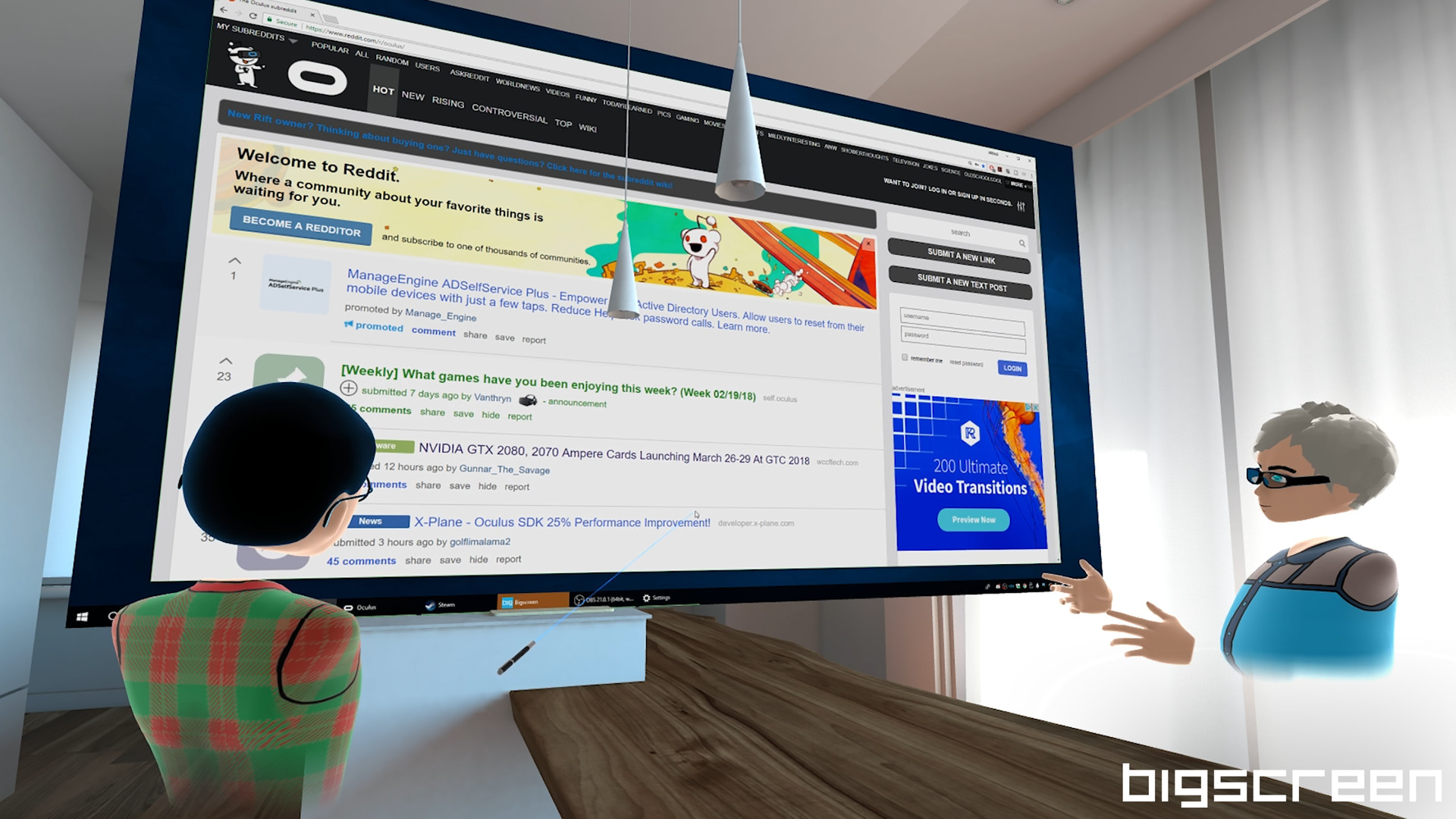 Bigscreen is designed for the gaming and movie community. It looks beautiful but is hard to read the small text. The ability to create private rooms, invite people to them, and screen share makes it an option for remote workers to host meetings in VR.
Main features include:
Use any Windows application in VR
Private rooms with up to 12 players
Draw in 3D
Customize the screen's position, size, and curvature
Desktop Sharing
Support for up to 3 monitors (physical monitors or virtual/emulated monitors)
Have your own, personal office to focus on work. vSpatial displays the windows on your desktop all at once. Virtual desktops + meeting with your team workers
Main features include:
Personal room with customizable environments
Up to 3 people can meet at a time via teleconference
Infinite application windows
Fully integrated with Slack
Matt from Immersed, gave me this update on their product:
(As of Spring 2018) – Immersed elicits a sense of relaxation but provides a distraction-free zone to increase productivity and get work done. With the high-resolution displays in Gear enabled devices, small text can be read easily. Immersed hopes to create a remote work solution that will allow you to work and live wherever you want!
Main features include:
Completely mobile and un-tethered (Take Immersed wherever you'd like)
Virtual keyboard overlay
Personal work space with multiple monitors
Distraction-free work zone
Whiteboard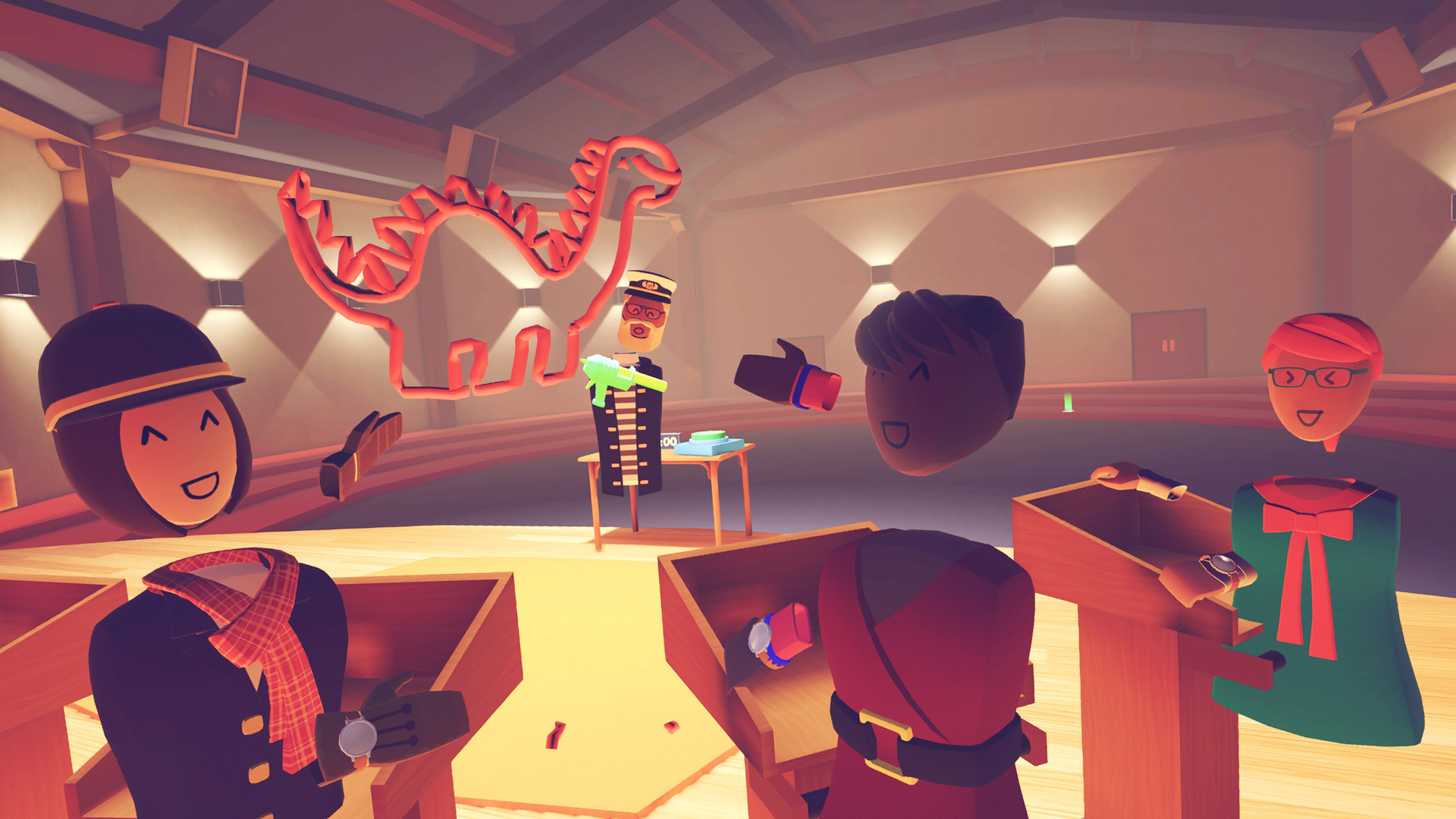 Rec Room is a virtual community designed for playing with friends. You and your coworkers are represented by avatars and can meet in private rooms. Rec Room is a good option if you want to host a team outing but your team is all over the world.
Main features include:
Co-Op Quests, 3D Charade, Paintball
Mute options and moderation tools help manage the experience
Create your own 3D space, watch videos, interact with 3D objects or hang out.
Main features include:
Share media like videos, photos, PDFs, and 3D models with others in your space.
Jump right in on your computer, no VR headset required (although compatible with Hubs)
Who says you can't have a meeting and fun at the same time? Talk business. Organize a team outing. Build comradery on the virtual golf course.
No Longer in the top 10
Experience events live in 360-degree video.
Main features include:
Watch live 360 video streams.
Facebook is shut down Spaces on October 25, 2019. Facebook Horizon is the new VR social network from the company.
Facebook Spaces is built as a social platform for Facebook users. It can work for a quick meeting, that is if you want to be Facebook friends with your co-workers.
Main features include:
Meet with Facebook friend's avatars
Go Facebook Live from Spaces
Make and receive calls with Facebook Messenger
Draw in 3D, share images and video.
---
Coffee = Blog Fuel
If you find joy and value in what I write, please consider donating by "buying me a coffee".