I arrived at Union Hall an hour before showtime. The startups set up their booths against the walls, placing their VR headsets, banners, and TV monitors in position. I remember being in their shoes just a short year ago at Seattle Startup Week. There is anticipation in the air and promise of things to come.
I head over the alcove and grab a blueberry muffin and mocha from the espresso bar. The turn out is looking good. There are faces young and old filtering into the hall. That's when I see David. "Are you ready?" He asks. "You know it!" I say.
I parked at a table with Gaby, the Strategic Account Director at Cintrifuse. We enjoyed our coffee together and talked about the week. "I'm going to go play DJ. This music isn't cutting it". She said.
After a few more minutes of mingling, the music is cut and David steps on stage to welcome the crowd. Let AR/VR day begin!
5 Takeaways from Cintrifuse Tech Frontier Series: AR/VR
The immersive tech startup scene is strong in Cincinnati
Cincinnati has a strong startup scene. I was impressed not only by the companies presenting and by the number of small businesses owners in the crowd. Cintrifuse is a place that brings people, funds, and ideas together to improve the tech presence in Cincinnati and ultimately improve the greater economy of the city. I saw that in the AR and VR startups who shared their presentations and demos on stage on Thursday. I was impressed by the variety of industries they were in and the support Cintrifuse, Startup Cincy, and the crowd gave them.
Breaking down the barriers to AR/VR isn't as scary as it seems
The first barrier to break down for most companies is their mindset. Just like I learned in implementing manufacturing software, so it is with VR and AR. Unless the company and decision makers are open to its possibility, immersive tech projects will fail. I spoke to Annie Eaton, co-founder, and CEO or Futurus, who told me that companies need to think about using immersive tech to, "do old business in a new way." Changing your mindset will future-proof the business.
Websites went from text-based chat rooms to multi-million dollar e-commerce industries. Cell phones went from brick-like devices to mini-computers we can't live without. Immersive technology will grow into our lives in the same way. In fact, for some companies, it's already part of the way they do business.
Psychologists have been using VR since the late 1980's to help clients. I met Dr. Page Anderson who used VR to help her clients overcome their fear of flying after 9/11. I met Elizabeth Baron from Ford Motor Company at Immersed. She invented FiVE, the Ford Immersive Vehicle Environment process and technology in the late 1990's. Ford has used FiVE ever since to prototype cars, test manufacturing variations, and tell customer's stories by bringing their experiences to life with immersive technology.
Doctors use mixed reality to practice surgery and educate children
The presentation by Dr. Ryan Moore, from Cincinnati Children's Hospital Medical Center, was both hilarious and informative. I could write a whole blog post on his presentation. He talked about how growing up playing video games influenced his career path that eventually led him to use mixed reality for medicine. He started his presentation with a DaVinci drawing of a heart telling the crowd, medicine is a science, an art, and a game.
Dr. Moore is a pediatric cardiologist which means he works with children and performs heart surgeries on them. He uses virtual and mixed reality in all sorts of interesting ways. They model real patient data in VR to find the best way to fit devices on the heart. This is necessary because there are a lot of great devices for adults but they don't fit in children's bodies. He created a heart guide app to teach parents and their children who were having the operation what the heart does and what the surgery would do.
After the presentation he told me, we hope that by explaining their procedure they'll understand what happened to them and remember. Often times we get adults who had complex surgeries as babies or young children and don't know what it was or how it affects them in adulthood. Follow up in important and by learning from our apps and VR experiences we hope that it will stick. If kids can learn all the planets, moons, and dwarf planets in the solar system, they should be able to remember what a ventricular septal defect or a hypoplastic repair is.
Big companies can create AR/VR strategies without buying all in up front
Investing in immersive technology like virtual and augmented reality can be intimidating for a lot of companies but that doesn't have to be the case. Jim Boyd spoke about his experience bringing immersive tech to General Mills. What I liked about Boyd's conversation was that he wasn't pushing VR or AR on the crowd. He gave reasons why immersive technology worked for General Mills but that not all companies may be on the same level and that's ok.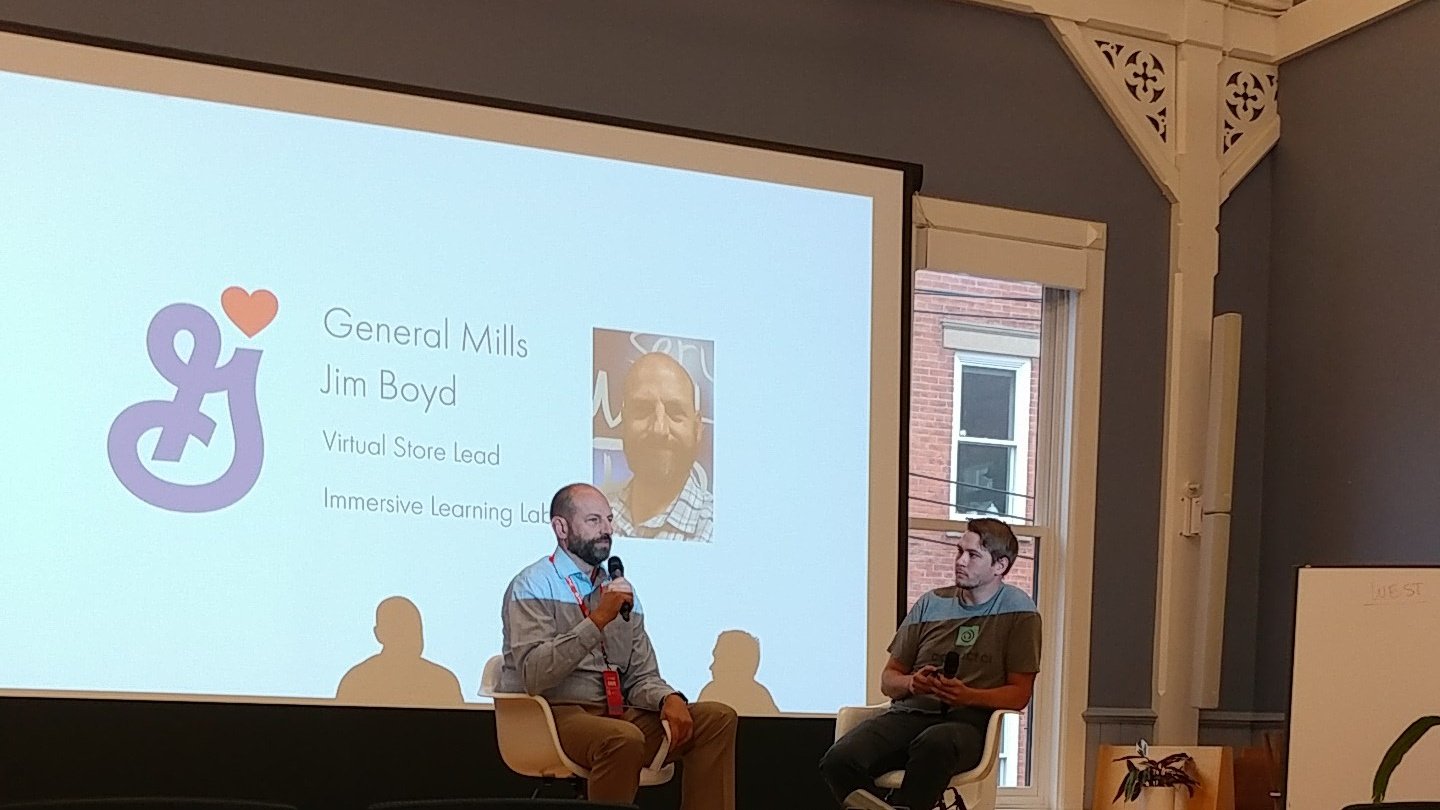 "If you're here looking for validation that VR adds value to business, I'm going to answer that with a yes." – Jim Boyd, General Mills
Implementing a new technology at a company can be hard because of cost barriers and red tape. Don't let that stop you from learning about it and experiencing it. Hire vendors to learn about augmented reality and virtual reality. Understand what the tech can do other than a video game. Read blogs like Road to VR, VR Scout, Inside VR & AR, and Lilyotron. 

 Go to events like Startup Cincy, that showcase virtual and augmented reality companies. Try their demos and think where they could fit in your company.
Successfully using immersive technology is about understanding your business processes and what you want to achieve before implementing the tech. "It's not what you have, it's how you use it. Look at your business processes and try where this can work."
Extended reality has a home in manufacturing
My IT career started in manufacturing so I was beyond thrilled to hear a presentation about extended reality being used on the plant floor. We saw some great demos of instructions overlayed on pieces of equipment so operators could repair them without having to look up part numbers or remember what the name of a file was called.
Although this presentation used demoed with augmented reality, I thought the points to get there was spot on.
If your solution is more complex than a PowerPoint, it has no place it in the enterprise.
The worker of the future is the "connected worker". Get the right info to the right person, at the right time, and on the right device.
---
Thank you to all my followers and regular readers. Hello and welcome if you are new to my blog!
New to this site? Click here to visit About Lily.
Want to get in touch about a project or event? Contact me here.
I look forward to reading your thoughts in the comments below.