"WhatsApp" with WhatsApp
WhatsApp joined Facebook in 2014. It took a long time for Facebook to get any benefit from WhatsApp because the app was encrypted. Facebook couldn't find a way to get WhatsApp data without breaking the encryption, and user's trust. It seems like they now found a workaround.
The WhatsApp privacy policy says that they "work together to improve our services and offerings," with Facebook. Things like fighting spam, making product suggestions, and you know, "showing relevant offers and ads on Facebook." The changes are mandatory at set to take place on February 8, 2021. So you still have time to delete your WhatsApp account.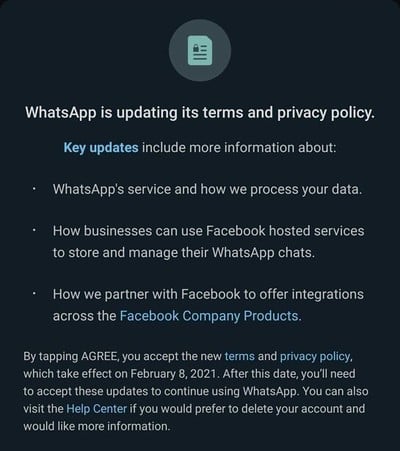 In January, WhatsApp released an update to their privacy policy that allows the app to share much more of its user data with Facebook Companies and products. That information includes:
account registration information (like your phone number)
transaction data
service-related information
information on how you interact with others (including businesses)
mobile device information
your IP address
Let's back up. What are Facebook companies and Facebook products?
Facebook Companies
The List of Facebook Companies:
Facebook Inc.
Facebook Ireland Ltd.
Facebook Payments Inc. and Facebook Payments International Limited
Onavo – discontinued on May 6, 2019 (was a VPN service)
Facebook Technologies, LLC and Facebook Technologies Ireland Limited
WhatsApp Inc. and WhatsApp Ireland Limited
CrowdTangle – a social analytic platform that helps publishers and media companies surface stories that matter, measure their social performance and identify influencers on social media platforms
Facebook Products
Facebook (including the Facebook mobile app and in-app browser)
Messenger
Instagram (including apps like Boomerang)
Portal-branded devices
Oculus products (when using Facebook account which will also become mandatory)
Facebook Shops,
Spark AR Studio
Audience Network
NPE Team apps and any other features
Apps, technologies, software, products, or services offered by Facebook Inc. or Facebook Ireland Limited under their Data Policy.
Facebook Products also include Facebook Business Tools

Facebook Pixel
Conversations API
Offline Conversations
Social share buttons
Kustomer (a CRM Facebook acquired in 2020 that enables social commerce functionality for businesses)
Yeah, that's way more than just Instagram and Facebook. It reminds me of Hydra. You cut off one head, two more come in its place. The only way to get rid of Facebook products is to delete the parent app.
Can you ever be free of Facebook?
Or Google or any of them for that matter?
That's a resounding NO.
Even if you delete your Facebook account, Facebook can still track you and use your data for advertising, which means building a profile on you. Facebook has lots of third party tool that businesses use to capture leads, track customers, and build profiles. For instance, Facebook offers Facebook Pixel, a service that allows third party sites to track and build profiles on you. Even if you don't have a Facebook account. Facebook also offers Offline Conversations, a way for businesses to "leverage their offline events data—such as in-store purchases, over-the-phone bookings and qualified leads—to help power their digital campaigns." Businesses can connect their customer relationship management databases or point of sale systems to Facebook.
You don't just see Facebook ads on Facebook. Third party business tools and Facebook's Audience Network mean you see Facebook generated ads anywhere on the web and not even know it.
Facebook shadow profiles
All this data is used to create a profile for every Facebook user. Not Facebook the social media site, but Facebook the advertising company. If you have a Facebook account, Facebook uses this data to recommend friends or new connections.
According to Techopedia, Facebook also uses shadow profiles, "for social data analysis/mining. Facebook maintains these profiles, which are not deliberately shared or disclosed to individuals or account owners."
How to Opt Out of 3rd Party Tracking
YourAdChoices site run by the Digital Advertising Alliance. You'll notice Facebook advertising targeting is on the list of entries—tick the Opt Out box to do just that. Note that you'll need to do this separately for each browser you use; for the biggest impact, you should opt out of all the other platforms as well. source
If you still have a Facebook account, use "off tracking tool."
The Tech Giant's Ad Wars
To make things interesting, it looks like Apple is getting into the Ad Network game. Apple announced in 2020 that it's introducing a new feature in iOS 14 that gives users the choice to as an app "not to track" them. This has sparked an ad war with Facebook and Google. Facebook has even taken out full page print ads claiming that Apple's iOS update will hurt small businesses.
In the ad, Facebook claims Apple's "forced software update" will "change the internet as we know it – for the worse." That's a comical coming from Facebook. The ad continues saying that many small businesses will have to "start charging you subscription fees or adding in-app purchases…" Honestly, I think that's the way to go unfortunately.
"The age of free Internet is over."
Remember in Marketing New Realities, Hackl and Wolfe mentioned that people would have to start paying for privacy? Well, this is it. People need to support the content or apps they use. Whether it's true private message apps like Signal or independent media sources, or supporting your local bookstore instead of Amazon, the age of free Internet is over.
While Apple ads a ad collection popup for every other app, they handle data collection differently for themselves. Yes, they still give you the option to opt out of Apple ad collection but its in a different part of the iOS.
"While Apple cites privacy as the main reason for their new device ID policy, it seems to really be an attempt to divert advertising dollars to themselves and create yet another walled garden," said Diaz Nesamoney, CEO of creative ad tech company Jivox, said in adexchanger.com.
Users have to make a conscious effort to turn off Apple ad tracking in settings, while they'll have to opt into tracking for ads placed by 3rd parties. And 3rd party apps "will only be able to display the ATT opt-in prompt once" where they can go back into settings and turn on Apple ads tracking.
What's happening to social media
Big tech companies are going after their competition in the name of "saftey". We've given away a lot of freedoms in the name of "safety" this past year. I'm not about to give up our first amendment rights too, especially to companies who work together to cut off the competition.
The great tech migration isn't only conservatives. It's people waking up to their internet rights. People online were never "nice" but we should have the right to say whatever we want. I think the problem is the internet shouldn't be a monopoly of a few companies, Google, Facebook, Twitter. I know we say "they're private companies" but as Roaming Millennial pointed out, so are restaurants but "they aren't allowed to serve us garbage as meals. There are standards."
Where are people going instead?
Twitter Style
Facebook Style
Video
Other
Personal websites.
Deleting social media all together.
---
Featured Photo by Rachit Tank on Unsplash
Coffee = Blog Fuel
If you find joy and value in what I write, please consider donating by "buying me a coffee".